David was the main contractor for our three bedroom Eco house in College of Roseisle.
We chose David because he came highly recommended by former clients and builders who had worked for him. When we first met him, we were impressed by his ability to listen, taking our ideas on board, fully engaging in the process and making helpful comments and suggestions.
It had been a lifelong dream of mine to live in a healthy, low energy Eco house in the countryside. We therefore chose natural and healthy materials wherever possible. David engaged with us to source some of those.
For the structure we had chosen Porotherm bricks, big highly porous clay blocks, insulated inside with volcanic material. With lime render inside and out they provide great insulation and thermal mass at the same time, which makes for a comfortable room climate, storing heat and radiating it back into the room when needed.
David had never worked with these blocks before, but was up for the challenge. We are delighted with the house as it does fulfil all our expectations and more. David highly enough, he was always available and took time to listen and communicated clearly. Any of our anxieties were met with calm measured responses.
He never panicked or reacted defensively, accepted challenges as they came and found solutions. He and his craftsmen worked to highest standards David clearly loves his work and takes pride in it, which shows in the quality of his building.
— Liselotte and Peter Roseisle Eco House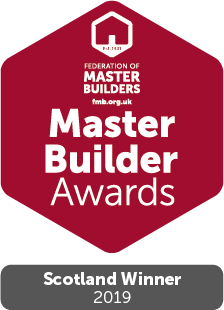 Get in Touch