David was the main contractor for my three bedroom eco-house, completed in December 2018.
I have been concerned about climate change for a long time and it has long been my ambition to live in a state-of-the art ecohouse. The house is built to the Passive House Institute's Low Energy Building Standard. The construction is timber frame, with wood- fibre insulation and Scottish larch cladding. Central heating is via an air source heat pump. Solar thermal and solar PV panels are fitted.
I chose David as the builder after hearing of his good reputation and seeing that he was a good communicator when I met him. David was open to communication and responsive to questions during the design phase - before he was commissioned - and contributed to my choice of materials and important aspects of the design. I was pleased to find that David remained a good communicator throughout the project, which helped me to feel that the project was going smoothly throughout.
Inevitably perhaps, there were a number of challenges — around drainage during initial ground works, and suitability of some of the specified materials during construction. These were all quickly resloved through telephone calls, emails and site visits.
I would heartily recommend David to others, especially to those interested in low energy building. David is honest, responsive and all his work is of the highest standard.
— Fochaber Cottage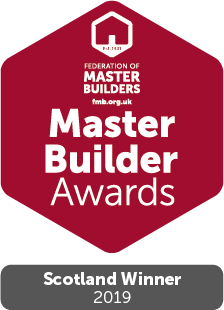 Get in Touch